Through the eyes of a child
Educational Values
We support the children to develop their potentials to the fullest. Independence, responsibility, open-mindedness, equal access to learning, a balanced lifestyle, emotional care and respect for others and for the planet are the cornerstones for preparing the child for their future life as global citizens in an ever changing world.
1
Healthy Lifestyle
We make wise choices for a healthy lifestyle.
2
Creative Thinking
We develop critical thinking skills to solve problems and find creative solutions.
3
Equal Access to Learning
We have equal access to the learning process through teaching strategies, learning materials, observation and constructive feedback.
4
Care and Respect
We respect others to build peaceful relationships.
5
International - Mindedness
We foster our cultural identity but also appreciate the cultures and traditions of others.
6
Soft skills & Emotional development
We are aware that we must nurture our own and other people's emotions. 
7
Independence & Responsibility
We can take care of ourselves and we take responsibility for our actions.
8
Environmental awareness
We love and care for our beautiful planet.
Wisdomland Signature
The Reggio Emilia® Approach to teaching meets the Cambridge English Program and the excellence of the prestigious IB PYP – International Baccalaureate Primary Years Program.  We support the child in developing the IB Learner Profile attributes, discovering their talents, growing an international-mindedness and love for knowledge to become life-long learners and global citizens in an ever-changing world. We bring multilingual education to the next level by providing our 3-6-year-old children with the unique opportunity to learn Mandarin Chinese, thus further supporting the development of analytical, creative thinking skills and open-mindedness.
Wisdomland International
At Wisdomland International Preschool we see the world "through the eyes of a child". As authentic Reggio Emilia® school, all the activities are child-centered, inquiry, transdisciplinary and play-based. Our classrooms and all school areas are designed to be our children's third teachers, inspiring their curiosity to discover and get to know the world first-hand. Academic learning goes hand in hand with the blooming of the child's social and emotional skills in a holistic approach to early childhood education which ensure each child's 100 languages are nurtured and acknowledged.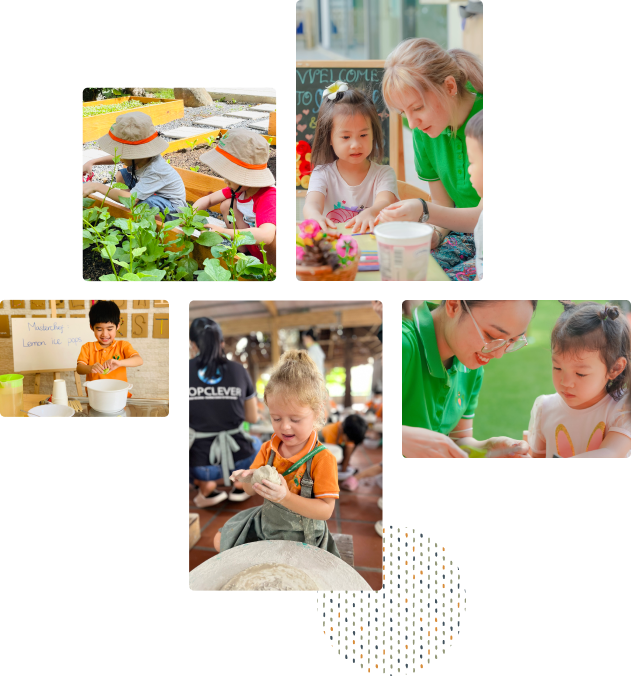 Cambridge English Program

Cognitive and Soft Skills Development

Multicultural Environment
Testimonials
I want to thank the school very much. Cốm is excited to go to school everyday. I believe that she is loved & well taken care of by her teachers. She loves the enrichment programme, especially swimming, cooking and piano classes. Her English has improved greatly ...
View more
Ms. Vu
Parent of Cao Nha An – Little Discoverers (3-4 years old)
Là một người mẹ mình đã phân vân đứng giữa vô vàn các options trường cho con (đâu đấy cũng 10 trường) xét theo các tiêu chí: học phí, chương trình học, không gian, song ngữ, ngoại khoá, bữa ăn và cuối cùng là thiện cảm ...
View more
Mẹ Trang Sofia
Phụ huynh của Nguyễn Khánh Ái Linh – Adventures (3-4 years old)
Thanks to all the teachers, our daughter could easily adapt with the new environment. She could make acquainted herself with new friends and teachers, too. We really appreciate your love, care & your support for our dear child. We absolutely believe that our daughter are in ...
View more
Ms Phuong Thao
Parent of Nguyen Vinh Tam – Little Discoverers (3-4 years old) & Nguyen Vinh Hy – Little Journeyers (2-3 years old)
Thank you for taking good care of the children. I am quite surprised that my daughter can now speak English, and sometimes simple Vietnamese words so clearly. We are happy to let Ha Eun stay at the school.
Ms. Eun Sil Kim
Parent of Ha Eun Tae – Little Discoverers (3-4 years old)
Thank you, teachers, for your hard work and dedication.
Ms. Eun Jung Yi
Parent of Harang Lee – Little Discoverers (3-4 years old)
As both of my 2 daughters have attended Wisdomland from the early days of the school, when they were almost 20-months old also their first few years of life. Until they graduated from preschool, I have always had special feelings for this beloved school. There is ...
View more
Ms. Phuong
Parent of Nguyen Ha Nhien – Little Navigators (5-6 years old) & Nguyen Mi Van – Little Explorers (2-3 years old)
My daughter is really enjoying going to school everyday. I'm happy there are many activities such as swimming lesson, keyboard, yoga and so on. The best part is that she can learn English, Vietnamese and even Korean.
Ms. Juemi
Parent of Seoa Kuk – Little Inquirers (1-2 years old)
Good school fees, friendly English-speaking staff, clean environment, especially class teacher's passion which is the main reason why we chose Wisdomland. The field trips are always well thought out and free. The application is very convenient and useful, we love the daily updates with pictures. Our ...
View more
Ms Haidi
Parent of Elinor Wenzin – Little Navigators (5-6 years old)
The school's facilities are very good. The care and education from Wisdomland teachers is also fantastic. My daughter has always loved her time at Wisdomland. She likes to sing and I'd love to see her pictures playing with classmates at school, too. She could remember all ...
View more
Ms. Le Thi Thanh Thao
Parent of Dinh Diep Chi – Little Explorers (2-3 years old)
My great thanks to Ms. Thuy and all dear teachers for looking after Zippo over the past school years. It is wonderful that my son could live and study in such a healthy school environment. Especially, great thanks to Wisdomland chefs for making delicious meals for ...
View more
Ms. Nga
Parent of Pham Minh Hieu – Little Explorers (2-3 years old)
I appreciate the friendly and caring attitude of Wisdomland staff.
Ms. Namrata Chauhan
Parent of Amaaya Kesar Chauhan – Little Travellers (4-5 years old)
A highly recommended preschool with outstanding advantages: Facilities: Safe and suitable for young children, neat, clean and tidy. Great management team and teachers. The teachers are always gentle and polite in communication with children and parents. My grandson could be involved in many outdoor activities and ...
View more
Grandmother of Cao Tuan Phong – Little Navigators (5-6 years old)
I would like to thank the teachers very much for your caring, and thank you for sharing with us at home a lot of useful information about our dear Banh Bao!
Ms Le Thao Chuong
Parent of Nguyen Le Grace – Little Inquirers (1-2 years old)
At Wisdomland, the kids are learning through playing. Wisdomland teachers are so kind. so enthusiastic, and they usually interact with the kids in English. The menu for our kids' meals is variable, and the meals are always fresh and warm. She could be much more independent, ...
View more
Ms. Trang
Parent of Le Khanh Chi – Little Journeyers (2-3 years old)
I am very pleased of the teachers' great care for each of the kids in class. Teachers really spend time and effort to recognize and acting on each child's different needs and personalities, and regularly update to parents about the child's performance in subjects and activities ...
View more
Ms Thao
Parent of Tran Gia Han – Little Travellers (4-5 years old)
Thank you for taking such great care of our dear child.
Ms. Min Ji Kim
Parent of SeoJin Kwak – Little Journeyers (2-3 years old)
The kids' playground is always fresh and cool with lots of trees. There are also many activities for the kids to learn and play every day.
Parent of Dang Duc Viet – Little Pioneers
I'm glad my child could be in such a safe, healthy, clean and friendly school environment, without too many children in one class. Especially, she has a love for school, and is making great progress in communication. She is also more confident and independent in all ...
View more
Ms Thuy Tien
Parent of Tran Ngoc Khai Tam – Little Travellers (4-5 years old)
The campus is full of fresh air, and my baby could be involved in many interesting extracurricular activities.
Parent of Vo Linh Thu – Little Pioneers
As a mother, I am very satisfied with Wisdomland campus area and its learning environment, along with those extracurricular activities provided, then the delicious and diverse menu for the kids.
Parent of Dang Nhat Minh – Little Pioneers
The school environment is warm and cosy like a home for all the students. All teachers and staff (even those who are not directly in charge of the kids' class) remember the name of every kid in school and the kids could always feel warmly welcomed ...
View more
Parent of Tran Minh Chau – Little Adventures
Thank you for helping our little Su quickly adapt to new school environment. She seems to be much happier nowadays. Thank you so much for all you do.
Parent of Nguyen Thanh Tam – Little Pathfinders 2
We are Sochi's parents, and we know that our child could be well taken care of in a good child-care environment. When Sochi was 2 years old, it was also the time her temper was changed, she turned to be very stubborn and she just insisted ...
View more
Parent of Huynh Thien Chi – Litlle Pathfinders 1
On Pin's first day at school, I am very grateful to Ms Phuong, Ms Ngoc and Ms. Hong for taking care of my baby. All the kids in class are in the early years of age, and there were many new students like Pin. However, if ...
View more
Parent of Trinh Minh Vuong – Little Pioneers